Learning Loss in English Speaking Class: A Case Study on Language Acquisition in Online Learning at Higher Education
Keywords:
virtual simulation, web-based application, multimedia, teaching, learning, learning loss
Abstract
This study aimed to discover the learning loss in online speaking classes in the aspect of language acquisition in higher education. This research used descriptive quantitative research. The data were collected using a questionnaire distributed to the international class students at Universitas Negeri Padang, Indonesia. The respondents were given 34 questions about three aspects of language acquisition: constructive learning, learning strategy, and learning environment. The results revealed that the students experienced learning loss in some aspects of constructive learning, learning strategy, and learning environment to acquire English as a foreign language, especially for speaking skills. The learning loss happened due to their restricted interactions with peers, difficulty learning collaboratively, and difficulty understanding learning materials. In addition, their metacognitive and social strategy for learning speaking was quite difficult to apply, even though the online learning process was undertaken synchronously and asynchronously. Finally, the unnatural learning environment made it difficult for them to interact to practice the language they were learning. By this finding, it can be concluded that the students did not acquire language acquisition comprehensively.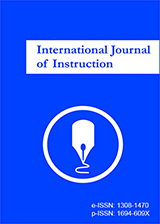 Downloads
How to Cite
Zaim , M., Ardi , H., Rosita , N., & Zakiyah , M. (2023). Learning Loss in English Speaking Class: A Case Study on Language Acquisition in Online Learning at Higher Education. International Journal of Instruction, 16(4), 633–650. Retrieved from https://e-iji.net/ats/index.php/pub/article/view/37