The Identification Misconception in Geography Learning During Covid-19 Pandemic Using Three-Tier Diagnostic Test
Keywords:
geography learning, misconception, three-tier diagnostic test, learning, covid-19 pandemic
Abstract
Online learning during covid-19 pandemic is the first experience for most teachers and students in Aceh. This study aims to find out how the level of geographical concepts understanding during online learning in Aceh, Indonesia through threetier diagnostic test. After knowing the concepts students find difficult as well as their difficulties in understanding those concepts, as long-term goal online learning method which is effective and innovative will be developed to enhance the level of geographical concepts understanding and to avoid misconception in students. This study uses quantitative approach. The object of study were students of class XI and XII with the total of 131 students come from 19 school in Banda Aceh and Aceh Besar. Data collection instrument used was test in the form of three-tier diagnostic test given online through google forms. Data analysis was carried out by analyzing the combination of answers using three-level multiple choice. The results showed indicated that the percentage of students who understand concept was 6.2%, do not understand concept were 78.50%, misconception was 3.18% and error was 2.12%. Based on the result of study it can be concluded that most respondents were in the category of do not understand the concept.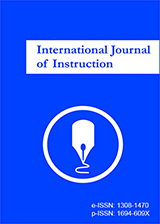 Downloads
How to Cite
Azis, D., Desfandi, M., Abdi, A. W., & Gadeng, A. N. (2023). The Identification Misconception in Geography Learning During Covid-19 Pandemic Using Three-Tier Diagnostic Test. International Journal of Instruction, 16(4), 87–100. Retrieved from https://e-iji.net/ats/index.php/pub/article/view/8