Korean Pre-service Teachers' Self-efficacy with Online Micro-Teaching Activities in a Teacher Education Program
Keywords:
pre-service teachers, online micro-teaching, synchronous and asynchronous micro-teaching, teacher education
Abstract
During the 2020 calendar year, teacher education programs were forced to transition courses online because of Covid-19. This situation necessitated the redesign of teacher education programs that used micro-teaching activities to scaffold experiences for pre-service teachers (PSTs). This study focused on how two different delivery designs for online micro-teaching affected PSTs' selfefficacy, outcome expectancy, technology integration knowledge, and reflections. The course format was guided by flipped learning model. A total of 134 pre-survey and post-survey comparisons were used. In addition, 10 participants voluntarily agreed to participate in the interviews at the end of the semester. By implementing a mixed-methods approach, survey and interview data indicate that online delivery does not improve self-efficacy but significantly enhances outcome expectancy, contrary to the literature on face-to-face delivery. In addition, qualitative data revealed that the micro-teaching experience boosted PSTs' knowledge and the future need for technology integration through critical reflection. Finally, several suggestions are provided for effective online micro-teaching activities in the teacher education program.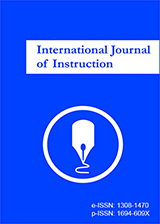 Downloads
How to Cite
Lee, Y.-J., Davis, R., & Li, Y. (2023). Korean Pre-service Teachers' Self-efficacy with Online Micro-Teaching Activities in a Teacher Education Program . International Journal of Instruction, 16(4), 71–86. Retrieved from https://e-iji.net/ats/index.php/pub/article/view/7