Experiences of Chinese-as-a-Foreign-Language Teachers in Implementation of Emergency Remote Teaching During the Covid-19 Pandemic
Keywords:
Chinese-as-a-Foreign-Language (CFL), Covid-19, emergency remote teaching, Technological Pedagogical Content Knowledge (TPACK), distance education
Abstract
Chinese-as-a-Foreign-Language (CFL) teachers worldwide experienced a variety of problems in their emergency remote teaching during the Covid-19 pandemic. The most common problems shared with teachers in other disciplines including stress, lack of student autonomy, change in interaction, inappropriate usage and delivery of online teaching curriculum, training, experience, pedagogy, comfort levels, and support in the use of relevant technologies, lack of time to learn new skills and to prepare teaching materials, and lack of professional development and training for teachers who would teach online. Other most common problems relatively unique to and experienced by teachers of CFL including incompatible technological tools usage outside of China, time zone differences between teachers and students, continuity of financial support, difficulty of teaching Chinese online in general (including Chinese characters), and decreasing Chinese students' enrolment. This article provides an overview of these problems, describes the solutions that have been found or recommended in certain cases, and identifies the problems for which no solutions currently exist. The silver lining is that in learning to use unfamiliar tools and teaching techniques, CFL teachers in particular may well find that they have access to new methods that they can use to good effect in face-to-face and hybrid settings.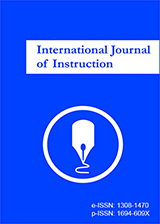 Downloads
How to Cite
Wang, L.-C. C. (2023). Experiences of Chinese-as-a-Foreign-Language Teachers in Implementation of Emergency Remote Teaching During the Covid-19 Pandemic. International Journal of Instruction, 16(4), 1099–1120. Retrieved from https://e-iji.net/ats/index.php/pub/article/view/62