The Contribution of Saudi Public Universities to the Promotion of their Students' Lifelong Learning Culture
Keywords:
lifelong learning culture, sustainable development goals 2030, quality education, labor market, Saudi universities
Abstract
The 2030 Agenda for Sustainable Development has revitalized the concept of lifelong learning and re-linked it to its human origins, especially Sustainable Development Goal 4 (SDG4) which calls for ensuring "inclusive and equitable quality education and promoting lifelong education opportunities for all". Motivated by this goal, this study explored the contribution of Saudi public universities to the promotion of their students' lifelong learning culture (hereafter LLC). To this end, the perceptions of 252 senior students and 168 postgraduate students on the contribution of their universities to the promotion of their LLC, the obstacles to the promotion of this culture in universities, and ways to enhance the universities' potential to promote students' LLC were surveyed. The study used a mixed-methods approach involving quantitative and qualitative data collection and analysis. Data was collected by means of a questionnaire administered to 420 students enrolled in undergraduate and postgraduate programs in theoretical and applied colleges at three Saudi public universities. There were also follow-up interviews with 15 students to elaborate on their perceptions. The results revealed that the participants' rating of Saudi universities' contribution to the promotion of their students' LLC was high with a total mean of 4.17 out of 5. However, the participants reported several obstacles to the promotion of LLC in Saudi universities. These included, lack of academic courses addressing LLC, separation between the majors available to the students and the requirements of the labor market, and poor communication between the university and the private sector to finance lifelong learning programs.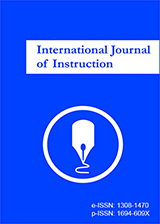 Downloads
How to Cite
Faraj , A. O. K. (2023). The Contribution of Saudi Public Universities to the Promotion of their Students' Lifelong Learning Culture. International Journal of Instruction, 16(4), 1009–1024. Retrieved from https://e-iji.net/ats/index.php/pub/article/view/57