The Competency Assessment of Imam Abdulrahman Bin Faisal University (IAU) Graduates
Keywords:
competency of graduate, qualifications, labour market requirements, graduate, labour market
Abstract
The current research paper aims to explore the reality of the competency of Imam Abdulrahman bin Faisal University (IAU) graduates to meet labor market requirements from the viewpoint of employers in service and production organizations in the Eastern Region. To achieve the objectives of the study, the descriptive approach is used and the adapted questionnaire was used to collect the data. The study sample consists of (254) direct employers of (IAU) graduates selected using the availability sample method. The results indicate that the level of overall competency of (IAU) graduates from the point of view of employers is of a high degree, whereas the level of professional and ethical competency is of a very high degree, while the dimensions of personal competency, cognitive competency, and technical and digital competency are a high degree. The findings also show that there are statistically significant differences at the significance between the mean of the employers' responses about the level of overall competency of (IAU) ersity graduates according to the difference in the graduate specialization domain in favor of the graduates of the educational domain. The study recommends working to enable (IAU) graduates to analyze data or digital information, focusing on enabling graduates to master the English language skill, both spoken and written.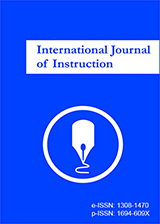 Downloads
How to Cite
Al-Awamleh, A. A., & Ayash , K. M. A. (2023). The Competency Assessment of Imam Abdulrahman Bin Faisal University (IAU) Graduates. International Journal of Instruction, 16(4), 899–920. Retrieved from https://e-iji.net/ats/index.php/pub/article/view/51