Factors Affecting Students' Academic Performance: Self Efficacy, Digital Literacy, and Academic Engagement Effects
Keywords:
academic engagement, academic performance, digital literacy, self-efficacy, academic achievement
Abstract
The main feature of education is student academic performance. Therefore, this study aimed to assess the factors that contribute to improving students' academic performance, including digital literacy. The study included 315 university students in Indonesia, who were divided into two groups based on their study field: (1) science and engineering, and (2) social science and humanities. Online questionnaires were randomly distributed to measure students' self-efficacy, academic engagement, digital literacy, and academic performance. Structural Equation Modelling (SEM) was applied to determine the model fitness among the four variables. The results showed that digital literacy and student engagement did not directly affect academic performance. However, engagement moderated the impact of digital literacy on self-efficacy, which in turn directly influenced academic achievement. Lectures that are conducted were found to be important in developing digital literacy, increasing student engagement, and improving selfefficacy, ultimately leading to improved learning achievement.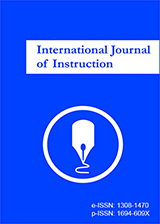 Downloads
How to Cite
Widowati , A., Siswanto , I., & Wakid , M. (2023). Factors Affecting Students' Academic Performance: Self Efficacy, Digital Literacy, and Academic Engagement Effects. International Journal of Instruction, 16(4), 885–898. Retrieved from https://e-iji.net/ats/index.php/pub/article/view/50