Designing an Instrument to Measure Digital Literacy Competence Using the 4D Model
Keywords:
digital literacy, measurement, instrument, 4D model
Abstract
This study aims to develop digital competency measurements, especially in junior high school, using a 4D model consisting of the following stages: definition, design, development, and dissemination. The research data source is the Central Java academic community consisting of 300 students, 5 teachers, and 3 digital literacy experts. The research data was obtained using a questionnaire and expert validation guidelines. The data obtained are qualitative and quantitative. The findings from this needs analysis include: 1) all respondents (100%) know the benefits and are actively using digital products; 2) there are (95%) of respondents know about digital competence but do not know the level of digital competence; 3) all respondents (100%) admit that they have never measured digital competence; 4) all respondents (100%) admitted that so far in measuring digital competence they have not used adequate and tested instrument; and 5) all respondents (100%) admit that information about the level of digital competence is needed as input to improve the quality of students digital competence. Seven instrument indicators test results are 52% for the strongly agreed category and 33% for the agreed category. Thus, this instrument is valid and expected to map the digital competencies of the academic community in junior high school, especially for students.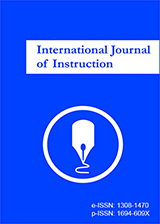 Downloads
How to Cite
Arvianto , F., Slamet , S. Y., & Andayani. (2023). Designing an Instrument to Measure Digital Literacy Competence Using the 4D Model. International Journal of Instruction, 16(4), 845–860. Retrieved from https://e-iji.net/ats/index.php/pub/article/view/48