Virtual Learning Communities Mediated through Instagram: PreTeachers as Creators of Environments through Visual Narratives
Keywords:
instagram, social media, virtual communities, secondary, visual narratives
Abstract
Scientific literature shows that from an educational perspective, one of the constraints of using social media is that trainee teachers tend to refrain from assuming an active role in any educational context, despite themselves being significant consumers of non-professional content on social media This study aims to analyse the perception of students of the Master's Degree in Teacher Training for Compulsory Secondary Education and Baccalaureate, Vocational Training and Language Teaching at a University in Spain on an experience mediated by Instagram in order to determine factors related to motivation, creativity and intention to use it in the future. The methodology employed implemented an experience based on a four-phase sequence. A questionnaire was administered as a pre-test, and post-test and correlations were carried out using Spearman's statistic, the statistical difference with Mann-Whitney and multiple linear regression with the input method. This allowed for the influence of their role as creators of visual narratives on their future practice as teachers to be analysed. In terms of the results, the most notable were the marks for awareness of the process carried out, views on the usefulness of the activity and opinions on motivation. The use of Instagram and other social networks for future activities was significantly valued, considering the methodology used allowed creativity to flourish. This is a relevant indicator and demonstrates a significant gap in educational studies regarding future secondary education teachers' trends and social media profiles. Although they are familiar with these networks, the results show that they have yet to be incorporated into their professional world.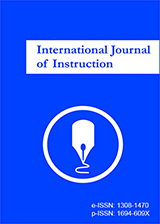 Downloads
How to Cite
Martínez-Gil, T., Gil-Fernández, R., Calderón-Garrido , D., & Martín-Piñol , C. (2023). Virtual Learning Communities Mediated through Instagram: PreTeachers as Creators of Environments through Visual Narratives. International Journal of Instruction, 16(4), 827–844. Retrieved from https://e-iji.net/ats/index.php/pub/article/view/47