Students' Preferences for Printed and Digital Materials and the Calibration Accuracy of Their Performance
Keywords:
students' preferences, "printed & digital" reading, calibration, monitoring, digital materials
Abstract
Digital transformation has become a basic requirement in Damanhour University. Paper books gradually turned into digital books. This study explored students' preferences for printed and digital materials and their perceptions of their learning through it. It also aimed to investigate the effect of the medium used on students' performance and their calibration accuracy of it which reflect their metacognitive monitoring. A questionnaire about students' preferences followed by five openended questions was applied on 612 undergraduate students; their responses on open questions were analysed qualitatively. The experimental study was conducted using groups rotation design on 100 of them as volunteers, they were divided into two equal groups, each group could study two topics, one in printed form and the other digitally in a balanced order so that each topic is followed by a test measured ILOs from the content ended by a question measures calibration accuracy. The results revealed that students prefer printed papers, especially males, literary disciplines, theoretical subjects that include long items, or that are followed by an essay test. A positive effect of printed reading was found, increased with the higher levels of Bloom's taxonomy. Better calibration was in favour of the group that used printed materials.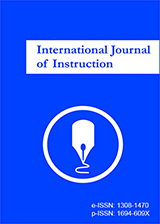 Downloads
How to Cite
Daha , E. S. (2023). Students' Preferences for Printed and Digital Materials and the Calibration Accuracy of Their Performance. International Journal of Instruction, 16(4), 771–786. Retrieved from https://e-iji.net/ats/index.php/pub/article/view/44