University Students' Perspectives of Face-to-face and Online Education: A Language Learning Comparison Prior and During Covid-19
Keywords:
higher education, face-to-face, in-person, language learning, synchronous, online education, covid-19
Abstract
On the onset of Covid-19 most higher education institutions worldwide responded rapidly by changing and adapting their academic programs to online scenarios, language courses were not immune to these changes. It has been noted that when it comes to evaluating the construct online education most studies analyze it considering a group of courses instead of focusing on one only. What is more, little research has tried to compare both the traditional and online language learning. Consequently, this study has the purpose to understand university students´ perception from both face-to-face language education prior to covid-19, and online language education during the covid-19 lockdown in Peru which is reported as a developing economy. The population of the study belongs to a private university, the sample group consisted of 22 undergraduate students participating in an online English course. The study followed a qualitative approach. Essays were chosen as the main instrument to collect information which was analyzed using both the thematic and content analysis as to identify and organize common patterns. The findings revealed that students reported a variety of advantages and disadvantages of face-to-face education before the covid-19 lockdown. Learners also highlighted the most common advantages and drawbacks from online education during the Covid-19 lockdown. Half of participants reported a preference for face-to-face instruction, while the remaining participants were in favor of online education and merging both learning environments. Although the study results are not generalizable, they can be compared with the study findings from other higher education institutions located in developed economies.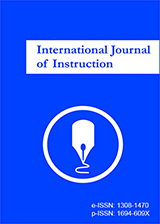 Downloads
How to Cite
Malpartida , W. M. F. (2023). University Students' Perspectives of Face-to-face and Online Education: A Language Learning Comparison Prior and During Covid-19. International Journal of Instruction, 16(4), 707–724. Retrieved from https://e-iji.net/ats/index.php/pub/article/view/41