Value-based Blended Learning Model for Strengthening Students' Character
Keywords:
value-blended learning, character, students, Pancasila and civic education
Abstract
In the era of the Fourth Industrial Revolution, blended learning must focus on strengthening students' character, in addition to building their knowledge and skills. To achieve this goal, it is essential to develop a blended learning model that is based on values. This study aims to describe the value-based blended learning model and its effect on strengthening student character. We used Borg and Gall's Research and Development method for our research, which involved a total of 265 university students enrolled in Pancasila and Civic Education courses at Universitas Pendidikan Indonesia, Universitas Sebelas Maret, dan Universitas Negeri Padang. Data were collected using interviews, questionnaires, and attitude scales and analyzed using qualitative interactive, quantitative descriptive and correlation-regression analysis. The results revealed that (1) the value-based blended learning model for character strengthening was carried out by integrating characters at all combinations, all stages of learning, and on all components of learning, habituation, role models, rules, rewards and punishment systems; 2) most students perceive very well the implementation of value-based blended learning in Pancasila and civics education courses; and 3) most of the students showed very good character. The dominant characteristics developed in value-based blended learning were critical thinking, creative and innovative thinking, independence, collaboration, hard work, digital literacy, democracy, religiosity, peace, responsibility, and tolerance. (3) The application of value-based blended learning has an effect of 50.8% on strengthening student character. Therefore, value-based blended learning should be implemented to strengthen student character.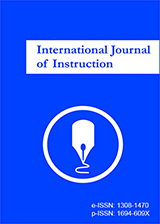 Downloads
How to Cite
Komalasari , K., Winarno, & Indrawadi , J. (2023). Value-based Blended Learning Model for Strengthening Students' Character. International Journal of Instruction, 16(4), 689–706. Retrieved from https://e-iji.net/ats/index.php/pub/article/view/40