Improving Fine Motor Skills of Children Using Eggshell Collage Media
Keywords:
eggshell collage, media, fine motor skills, children, elementary school
Abstract
Fine motor skills are needed by children when entering elementary school. The skills help them to be active in class. However, many children do not have fine motor skills, so they have difficulty participating in classroom activities. This is presumably due to the lack of stimulation at home or in early childhood education institutions. This study investigated the effectiveness of improving fine motor skills for children aged 5-6 years using eggshell collage media. The study used a quasiexperimental approach with a pre-test and post-test design. The participants of this study were 15 children aged 5-6 years at early childhood education institutions selected using a purposive sampling technique. Data analysis used paired sample ttest. The results showed that before the action (pre-test), the researchers categorized children's fine motor skills as they started the growing phase; after the action (post-test), fine motor skills were categorized as developed as the expected phase, and there was an influence of eggshell collage media. With a Significant 0.000 < 0.05, it is recommended that parents and teachers implement eggshell collage media to improve the children's fine motor skills.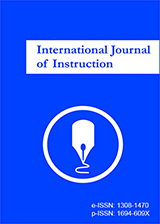 Downloads
How to Cite
Ismaniar, Landa , K. S., Zaini , M., Utoyo , S., Hazizah , N., & Handrianto , C. (2023). Improving Fine Motor Skills of Children Using Eggshell Collage Media. International Journal of Instruction, 16(4), 597–614. Retrieved from https://e-iji.net/ats/index.php/pub/article/view/35