Adaptation and Training Model of the Board Game Untold for Narrative Competence
Keywords:
narrative, writing, literature, game-based learning, board games
Abstract
In this study, a training model of the board game Untold: The adventure awaits you was developed to teach narrative skills. The research was structured in three phases: analysis of the educational possibilities of board game-based learning; application of the game in a pilot experience with the participation of 137 Spanish first-year high school students; and proposal for the adaptation of the game mechanics and dynamics. The results offer a proposal with modifications of game dynamics and mechanics to facilitate the didactic use of Untold: The adventure awaits you. The main modifications have been: simplification of rules, previous training in the interpretation of dice and metaphorical meanings, and inclusion of the villain (or knot) as the starting point and central axis of the narrative. It is concluded that it is an effective resource to develop narrative competence in a playful way.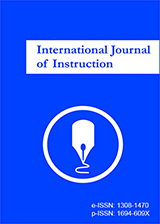 Downloads
How to Cite
García-Roca, A., Rodríguez-Ferrer , J. M., & Manzano-León , A. (2023). Adaptation and Training Model of the Board Game Untold for Narrative Competence. International Journal of Instruction, 16(4), 579–596. Retrieved from https://e-iji.net/ats/index.php/pub/article/view/34