Preservice Teachers' Technology Integration Knowledge Development in an Online Technology-Based Course
Keywords:
TPACK development, TPACK domains, preservice teachers, online technology-based course, multilevel modeling analysis
Abstract
Technology-based instruction provided during the covid-19 pandemic demonstrated the importance of teachers' technology integration knowledge. This study examines the impact of a technology-based course offered remotely during the covid-19 pandemic on preservice teachers' technology integration knowledge development. It provides a new way to conceptualize and measure preservice teachers' technology integration knowledge growth in context. Multilevel modeling analysis was conducted to analyze the data gathered from 53 preservice teachers over two-time points through a validated Technological Pedagogical Content Knowledge (TPACK) survey. The results demonstrated a significant increase in all TPACK domains. Participants' main TPACK knowledge domains were more stable than their integrated knowledge domains. It was also found that the technological knowledge (TK) domain played a more significant role in explaining the development of teachers' TPACK. TK is critical for developing pre-service teachers' TPACK integrated knowledge domains, which can explain why some preservice teachers achieve a high level of Technological Content Knowledge (TCK) and Technological Pedagogical knowledge (TPK) at each time point while others do not. The findings and their implications provide guidance for the development of preservice teachers' technological knowledge that facilitates technology-supported learning environments.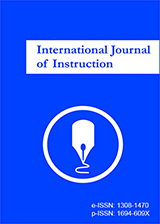 Downloads
How to Cite
Greene , M., Cheng , S.-L., & Jones , M. (2023). Preservice Teachers' Technology Integration Knowledge Development in an Online Technology-Based Course. International Journal of Instruction, 16(4), 385–404. Retrieved from https://e-iji.net/ats/index.php/pub/article/view/25