Preservice Teachers' Self-Efficacy through Hybrid Field Practicum in a Korean Teacher Education Program
Keywords:
field experience, hybrid field experience, teacher self-efficacy, teacher education, preservice teachers
Abstract
A practice-based approach to teacher education programs is fundamental to preparing preservice teachers (PSTs) for in-service teacher roles. Although many studies have explored the impact of field experience on PSTs' perceptions and attitudes toward diverse students, few have examined PSTs' self-efficacy in hybrid environments that require both F2F (face-to-face) and synchronous online field practicum. This study explored Korean PSTs' self-efficacy changes regarding instructional strategies, classroom management, and student engagement through hybrid field experiences. The data was collected from a teacher education program in Korea in the 2021 spring semester from April to July. This study used the Ohio State teacher efficacy scale (Tschannen-Moran & Hoy, 2001) to measure teacher self-efficacy. As a result, 133 pre-survey and post-survey comparisons were used. After the survey, seven volunteered preservice teachers were interviewed individually. By using a mixed-method design, study results showed that field experience in hybrid environments significantly increases PSTs' instructional strategies (d = 0.58), classroom management (d = 0.47), and student engagement (d = 0.48). This study suggests PSTs' self-efficacy changes through a hybrid field experience in a teacher education program.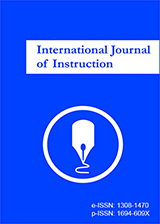 Downloads
How to Cite
Lee , Y.-J., & Davis , R. (2023). Preservice Teachers' Self-Efficacy through Hybrid Field Practicum in a Korean Teacher Education Program. International Journal of Instruction, 16(4), 349–366. Retrieved from https://e-iji.net/ats/index.php/pub/article/view/23