Learning Outcomes of Islamic Religious Education in Various Studies in Indonesia: Correlation Meta-Analysis and Systematic Literature Review
Keywords:
learning outcome, Islamic education, meta-analysis, systematic literature review, learning
Abstract
The learning outcomes of Islamic religious education can be in the form of knowledge of Islamic teachings, the ability to read and write the Qur'an, the ability to worship according to religious guidance, and an understanding of morals and morals in accordance with Islamic teachings. Islamic religious education is a compulsory subject in Indonesia from elementary school to university. This study aims to prove the impact of various studies in improving learning outcomes of Islamic religious education and to identify, study, evaluate, and interpret aspects of the study. This type of research is mixed methods designs with an Exploratory Sequential approach. The research variables consist of learning outcomes of Islamic religious education as the independent variable and various studies as the dependent variable. Data were obtained from online databases, namely Google Scholar and Dimensions, which were selected using specific criteria. Quantitative data analysis with correlation meta-analysis assisted by R Studio and qualitative analysis with Systematic Literature Review assisted by NVivo. The results showed that there was a positive and significant correlation between learning outcomes for Islamic religious education with various studies and n bias. The most important components in learning Islamic religious education are learning methods and attitudes, and cognitive and learning media that must be considered to achieve learning goals.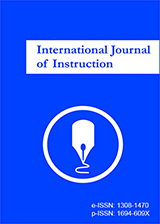 Downloads
How to Cite
Latuconsina, A. (2023). Learning Outcomes of Islamic Religious Education in Various Studies in Indonesia: Correlation Meta-Analysis and Systematic Literature Review . International Journal of Instruction, 16(4), 329–348. Retrieved from https://e-iji.net/ats/index.php/pub/article/view/22