Improving Critical Thinking Skills Through Higher Order Thinking Skills (HOTS)-Based Science
Keywords:
HOTS, critical thinking, habituation, science questions, Cohen's Kappa, semantic differential scale
Abstract
Through various strategies and learning models, efforts have been made to improve students' critical thinking skills in elementary and secondary school science classrooms. However, there are still a few research results that show efforts to improve critical thinking skills through Higher Other Thinking Skill (HOTS)- based science questions. Therefore, this study aims to test the effectiveness of students' habituation to HOTS-based science questions in improving students' critical thinking skills in science. In this study, students who were exposed to the HOTS-based science questions and who were not are being compared. The method used is an experimental method with a Pretest Posttest Non-Equivalent Control Group Design. This study involved 165 students from one of the Public Junior High Schools in Banda Aceh, Indonesia. To collect data related to critical thinking skills, a pretest, and posttest were administered, where each test used a long answer HOTS-based science questions. The data obtained from the test were then analyzed using descriptive and inferential statistical techniques. This study found that the habituation of HOTS-based science questions can effectively improve students' critical thinking, indicated by a significant difference in critical thinking skills scores in science between the control (n=81) and the experimental classes (n=84). The results of this study are expected to provide an overview and benefits for practitioners of science education to improve critical thinking skills in science using HOTS questions.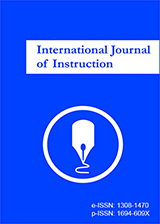 Downloads
How to Cite
Muhibbuddin, Artika, W., & Nurmaliah, C. (2023). Improving Critical Thinking Skills Through Higher Order Thinking Skills (HOTS)-Based Science. International Journal of Instruction, 16(4), 283–296. Retrieved from https://e-iji.net/ats/index.php/pub/article/view/19