The Effect of Problem-Solving Strategy on Achievement and Retention of Meanings of Literary Genres
Keywords:
literary genres, problem-solving, retention, academic achievement, students
Abstract
This study aimed at identifying the effect of the problem-solving strategy on the achievement and retention of the meanings of literary genres among grade twelve scientific stream students in Jordan. The study tool was an achievement test prepared by the researchers, the study sample consisted of (65) intentionally chosen students who were randomly assigned into two groups: an experimental group with (32) students taught according to the problem-solving strategy, and a control group with (33) students taught according to the usual strategy. The results of the study showed that there were statistically significant differences at the level of (α = 0.05) in the experimental group's achievement and retention at all levels and the total degree of achievement, moreover, the student's achievement in the post and retention measurements was better at all levels of achievement and the total degree of achievement than the pre-measurement, in favor of the experimental group. The study recommended providing training to language and literature teachers on utilizing efficient teaching strategies.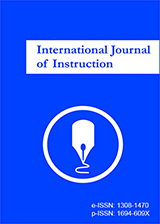 Downloads
How to Cite
Fayyoumi, K. A. R. M. A., Almousa , N. A., Alhabeeb, K. I. M., & A-Shogren , R. (2023). The Effect of Problem-Solving Strategy on Achievement and Retention of Meanings of Literary Genres. International Journal of Instruction, 16(4), 263–282. Retrieved from https://e-iji.net/ats/index.php/pub/article/view/18