The Effect of the 'Fast Game' in Handball on the Final Ranking of Teams in Major International Competitions
Keywords:
fast play, fast breaks, fast throw-offs, handball, fast game
Abstract
The main purpose of that study was to identify which of the independent variables that measured fast play tactics (Fast Throw-Offs and Fast Breaks) could predict a team's ranking in a high-level tournament. Researchers collected statistical data on the teams that took part in the final tournament of the Men's EHF EURO 2022. The main analyses of the study were Hierarchical Regression Analyses utilising the Stepwise methodology. As a result, the final ranking of the teams is significantly affected by more than 38% by the process of playing fast and fast breaks in particular. On the contrary, the FTO, either in all its efforts or in its final outcome (successful FTOs), is not an indicator that predicts or influences the final ranking of the high-level teams taking part in a major event. In conclusion, both the overall efforts of fast breaks and the successful fast breaks efforts of the teams during the games of a major event, are important elements and factors that predict the performance of the teams.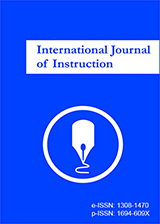 Downloads
How to Cite
Hatzimanouil , D., Lola , A., George Giatsis, & Vasilis Skandalis. (2023). The Effect of the 'Fast Game' in Handball on the Final Ranking of Teams in Major International Competitions. International Journal of Instruction, 16(4), 247–262. Retrieved from https://e-iji.net/ats/index.php/pub/article/view/17